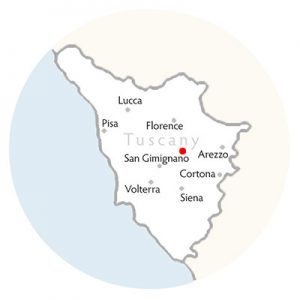 The Chianti region is a broad area in the heart of Tuscany, in which one of Italy's finest red wines is produced. This area is also where you'll find jewel like villages of Greve in Chianti, Gaiole in Chianti, Panzano… and some of the loveliest villas and castles of Italy.Larger towns such as Siena and San Gimignano are in reality, within the Chianti region – we use the term here to group together an area, and a style of wedding, that is linked to some of the wonderful castles and villas not directly related to one of these towns. Ideal for a relaxed, rural, cultural and culinary experience, the Chianti region has been famous with travels for decades, and continues to enchant artists, photographers, writers, and those looking for a genuine and healthy way of life.
Radda in Chianti is a beautiful medieval town enclosed in large defensive walls. Located up on a hill between the valleys of Arbia and Pesa, it has ancient origins. It has been inhabited since the 9th century and was already mentioned in a document from 1002.
In the surroundings of Radda you'll find many castles and parish churches, such as the medieval Castle of Volpaia and the Romanesque Church of Santa Maria in Prato with beautiful flowered capitals in the Romanesque style.
Today, Radda in Chianti and its surroundings are famous destinations for relaxing holidays in Tuscany. Several restaurants and wine shops in town offer excellent Tuscan dishes and the opportunity to taste the Chianti Classico DOC produced in the area.
While the town of Gaiole is not our favorite for a civil wedding, the village is in the heart of the truest Chianti Classico region, and home to a couple of our favorite castles. Both Castello di Monticiano and Castello di Spaltenna are ideal locations for a wedding party of 50 or more guests