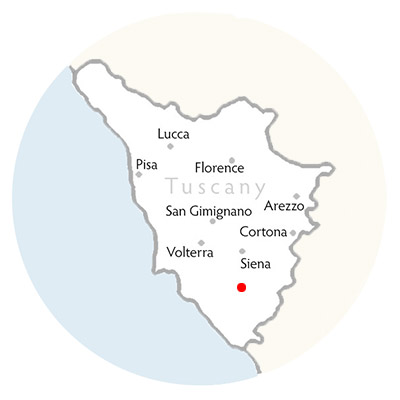 Medieval castles, rolling hills, isolated hilltop towns, charming farmhouses and isolated rural villas. Avenues of cypresses, row upon row of vineyards, olive groves, and golden wheat fields. This is the fantastic and harmonious landscape of Valdorcia
There are few other places that are able to move a visitor so deeply – it's almost a surreal and suspended land, home to the most precious Italian wines: Brunello di Montalcino, the Nobile di Montepulciano – but also the lovely hilltop villages listed here:
The town of Pienza, in the southernmost part of Tuscany, is ideal for lovers of all things authentic and unspoilt: the wines of Pienza and especially Montalcino (famous for it's Brunello, perhaps the best of all Italian reds) and the hundreds of varieties of local sheep's cheese (Pecorino); wild boar and home cooking of Pienza itself.But Pienza itself remains largely unchanged since Roman times, and other than being made famous for the filming of the Oscar winning film, The English Patient, not much has changed in the last few centuries…
For a civil wedding, the town hall is ideal for a party from 2 to 40 guests, and is in the heart of the little village. Getting married in Pienza is ideal for a genuine, country event.
Montalcino conserves to this day it's nature as a fascinating medieval village. The area around the town is given over to intensive vineyard cultivation for the incredible wine of this town: Brunello di Montalcino.
But even for non wine lovers, the town is a fascinating location: ideal for genuine Tuscan cuisine, and an unspoilt, tranquil countryside.
Based in the Val d'Orcia, you'll be able to visit not only the towns listed here, but the amazing Bagni Vignoni sulphur baths, Montepulciano, and the Amiata mountain – trekking in the summer, and even skiing in the winter…
San Quirico d'Orcia – the rural heart of the Orcia valley – close to the Vignoni hot baths – walking the main street of this Etruscan village is like going back centuries in time. While at Italyweddings we love San Gimignano, Siena and Volterra, the little villages to the south preserve what inevitably becomes a little lost with the effects of major tourism in Nothern Tuscany.