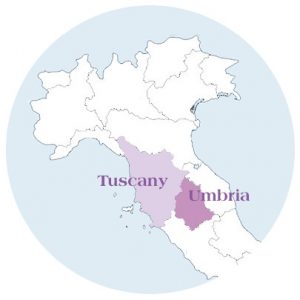 Southern Tuscany and Umbria is the area of Italy that perhaps today offers the most for couples looking for a genuine, relaxing, unspoilt and culinary experience. The area is dotted with charming towns that are all excellent both for weddings and for visiting: Cortona (Think "Under the Tuscan Sun") Montepulciano, Arezzo, Assisi, Orvito… they are all medieval masterpieces.
Umbria is known here as the "green heart" of Italy. It's the only Italian region that borders neither the sea nor another country. So, removed from outside influences, it is home to much of  Italy's old-world traditions. Hand made pasta is a big part of the cuisine…! Cured meats from the Norcia area, and truffles are the staples of the cooking and work beautifully into any wedding menu.
Cortona is situated in the southernmost part of Tuscany, near towns such as Arezzo and Orvieto. The little hill town of Cortona is the perfect place to be centered in Italy.Recently made known to a larger public due to the books and film of Frances Mayers – Under The Tuscan Sun, Cortona really is as depicted in these works – a medieval unspoilt oasis of great food, wonderful people, olive groves, poppies in May, sunflowers in June, sun, culture and relaxation.
The town hall is a stunning medieval palace, in the historic central part of the of the town. The Sala dei Consiglieri, where the wedding is held, has been for the last 400 years, and is still, the seat of the assembly of the town's government.